Be in control of your website...
indexation
indexation
indexation
indexation
ZipTie provides actionable data to get your website indexed and ranking well.
Sign up free
14-day free trial
Easy setup
Built by SEOs for SEOs
Built for people who need control over their indexing and ranking issues.
ZipTie reports will help you with:
Understanding your website's indexing and ranking situation

See overall statistics as well as the full list of pages not indexed by Google.

Optimizing indexation time and delays

Setting priorities for SEO improvement
Monitoring pages that are no longer indexed

JavaScript SEO analysis

We show you how much content is generated by JavaScript

Performance metrics

We now show you some of the most important performance metrics, such as Core Web Vitals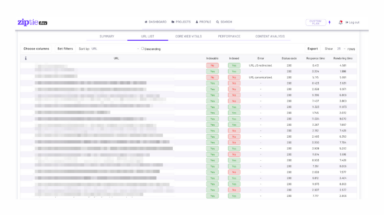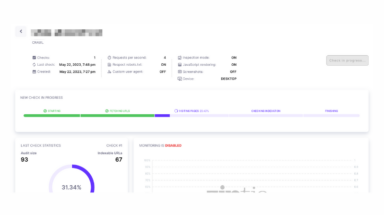 The features
We offer many features that help you achieve great SEO results and fix your indexing problems.
Start a 14-day Free Trial
Check a sample of URLs or full website

Check any set of URLs (a list of URLs, a sitemap file, an automated website crawl)
Monitor your website indexation

Check which URLs were deindexed by Google
The

Blog

Our blog is here to help you understand the SEO game better
pricing
Fair and simple!
We offer 3 different plans to fit your needs.
Basic plan starts from $9 = 5,000 credits
Start 14-day Free Trial
In case you are wondering:
How do the credits work?

The basic cost of the audit is 1 credit per 1 URL, unless advanced features are enabled. If fewer URLs are found than specified, the surplus credits will be returned to your account after the check is finished

Can I share the account with my team?

Sure, feel free to share account details with your colleagues!

Can I cancel my subscription at any time?

Yes, you can do it on your profile page. The changes will go into effect at the end of your monthly billing period.